Sean Baxter
Let's do Pure Fucking Armageddon!
What do you want us to do ? Like long song or short song or punk rock or grindcore or breakcore or disco ? Motherfucker! Brutal!
Let's do Pure Fucking Armageddon!
Threatening hooligan or furiously tender to those who didn't know him, activist without limits and ingenious drummer of material in permanent metamorphosis, Sean Baxter will remain a flagship figure of the Melbourne music scene. With unique aesthetic vision and intellectual depth, he would mix high-brow philosophical concepts with punk sensibilities in the way he lived, spoke and played. He was pure energy. He left us brutally on 15 March 2020.
To pay homage to him, Revué and Corrigée and Liquid Architecture decided to publish an extract of his 2018 text which accompanied the double CD of the trio Pateras/Baxter/Brown 'Bern-Melbourne-Milan', released on Immediata in 2019. Thank you to Anthony Pateras and Annalee Koernig. Also: Listen to Will Guthrie's homage to discover the breadth of Sean Baxter's work.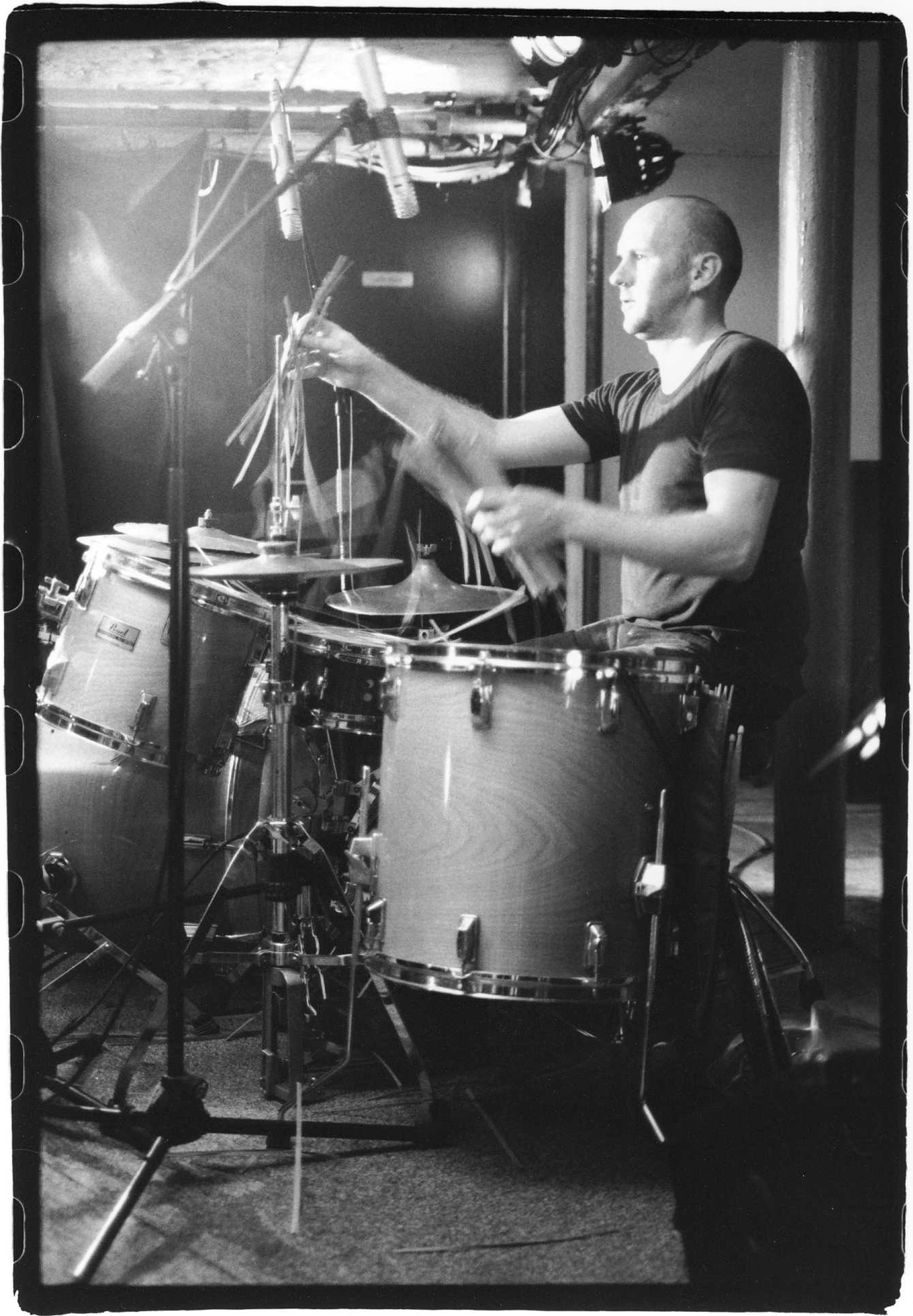 2002|McIlwraith|Improvisation


Improvisation enjoys the curious distinction of being both the most widely practiced of all musical activities and the least acknowledged and understood.
When our trio formed in Melbourne during the winter months of 2002, Derek Bailey's pithy introduction to his formative work on improvisation was a constant guide, orientating my thoughts about music at the time. The discursive politics circumscribing this performatively ubiquitous but institutionally neglected sonic artform remain as polarising today as they were then — particularly when it comes to radical, free and non-idiomatic practices of improvisation. By framing improvisation as a subjugated knowledge, Bailey captured a set of interconnected problems I was grappling with. His book helped me clarify issues around the formal, aesthetic, political, economic and philosophical tensions that exist between radical improvisation and dominant, institutionalised forms of Western composition (be it popular, jazz or classical music), and how those frictions relate to broader issues like the cultivation of sonic taste and the pursuit of artistic viability within a capitalist society. Furthermore, it galvanised my preoccupation with exploring extended instrumental technique as it relates to the physics and subsequent sociology of sound and, indeed, framed many of the fundamental questions regarding the nature of music itself that have haunted my thoughts ever since. Performing with Anthony and Dave in this group over the years has provided tangible evidence to support many of the contentious claims I explore hereafter with respect to these power relationships.
Pateras/Baxter/Brown was originally conceived as a radical free jazz trio. Dave and I were performing with Western Grey (an austere sound art collaboration we have with Phil Samartzis) supporting the launch of Anthony's first release, Malfunction Studies, at the Footscray Community Arts Centre on July 1st, 2002. Pateras played a solo on grand piano. It was a revelation. Appropriately captioned 'solo pianistic carnage' on the concert poster, his improvisation was strident, atonal, angular and joyously loud — reminiscent of the most aggressively abstracted playing by the likes of Cecil Taylor, Alexander von Schlippenbach or Yōsuke Yamashita, but ramped up to punk-as-fuck. Dave remembers:
being blown away by the density, dynamics, stamina and sheer physicality of his performance. Even though I'd previously seen intense, free piano playing via the Schlippenbach Trio live, I'd never seen anything quite like Pateras' playing before; this was a unique voice I connected with.
I had never witnessed improvised acoustic piano playing like this in the flesh. Evoking the rich, atonal, harmonic clusters of Modernist composition, the angular melodic phrasing of European free jazz and the rapid-fire rhythmic densities I'd come to love from extreme metal, Anthony's performance, mischievously laced with the performative signifiers of the Classical repertoire (the poise of the pianist, the intimidating presence of the grand piano dominating the stage), inspired thoughts of starting a formidable improv trio. I imagined a pummelling, grindcore/noise version of free jazz straddling the euphoric ferocity of the American tradition and the unsentimental abstraction of the European tradition. For Dave:
It must have been our joy in discovering a pianist with his level of dexterity and abandon that lead you and I to immediately discuss the possibility of a trio. I recall your suggestion was a 'Jazz trio' à la Cecil Taylor. Little did we know that something quite distant from this suggestion would materialise.
Indeed, what emerged was vastly different, but before that, a bit of context.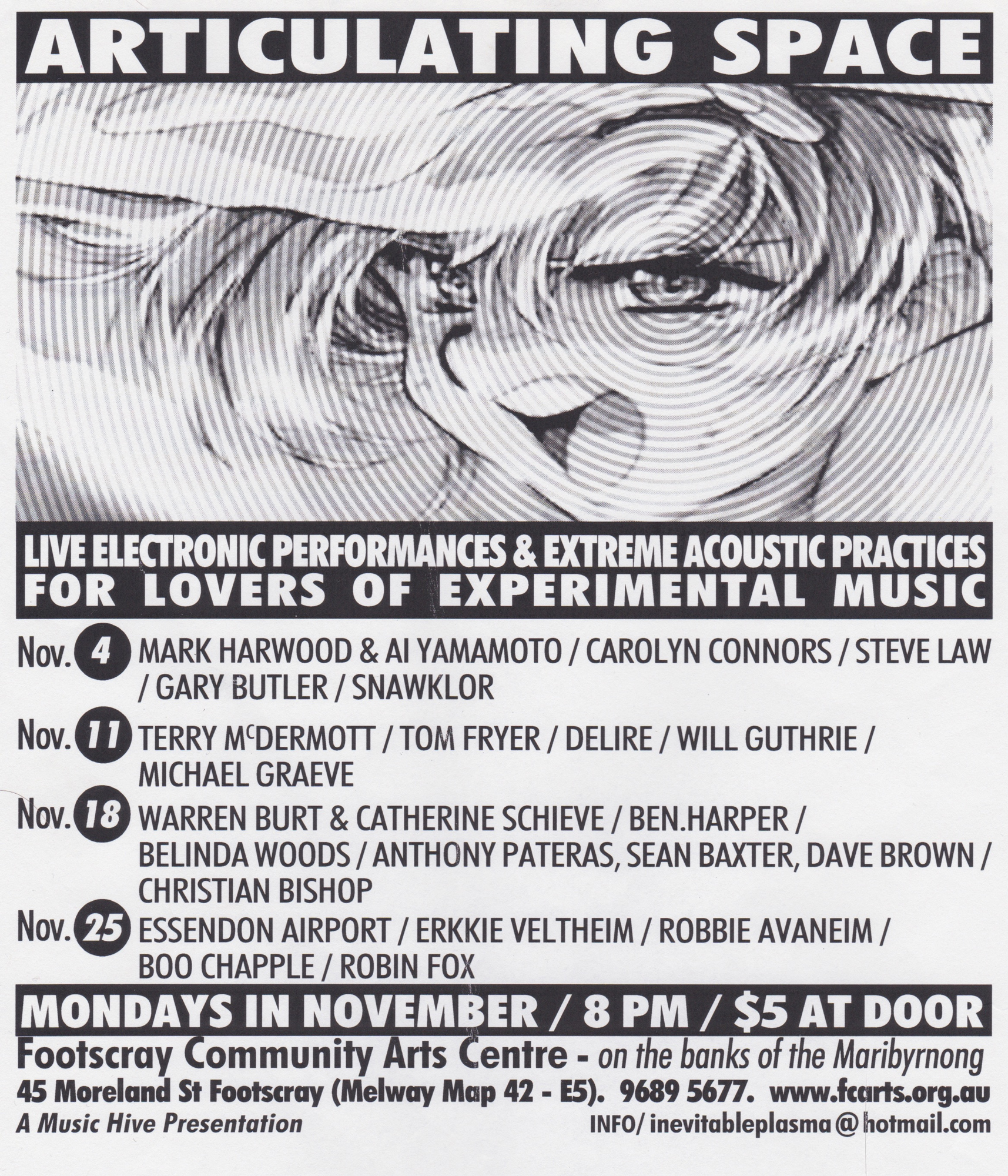 The Malfunction Studies launch was presented by Articulating Space, a seasonal concert series and annual festival founded by Pateras and Cameron Reynolds in 2000 with an unequivocal mission to showcase current trends in the exploratory sonic arts. As a series, Articulating Space bridged the gap between the stultified reverence of the contemporary classical recital hall and the exuberant but distracted attentiveness characterising experimental gigs at punk rock venues in Melbourne at the time, encouraging focussed listening experiences whilst empowering audiences to critically engage with the performances. It embraced a range of adventurous genres, from electroacoustic improvisation and breakcore to the outer limits of free jazz and contemporary composition, with rarefied experiments in sound art, musique concrète, mangled Aussie hip hop and digital electronics all liberally programmed. The line-up for the launch reflected this diversity, with Fivefold Galactic Bells (Robin Fox and Michael Munson), seo, delire (Julian Oliver), Natasha Anderson and the Fox/Pateras duo all performing that night. Even now, this curatorial philosophy serves as a unique palimpsest for how exploratory music events are organised in Melbourne.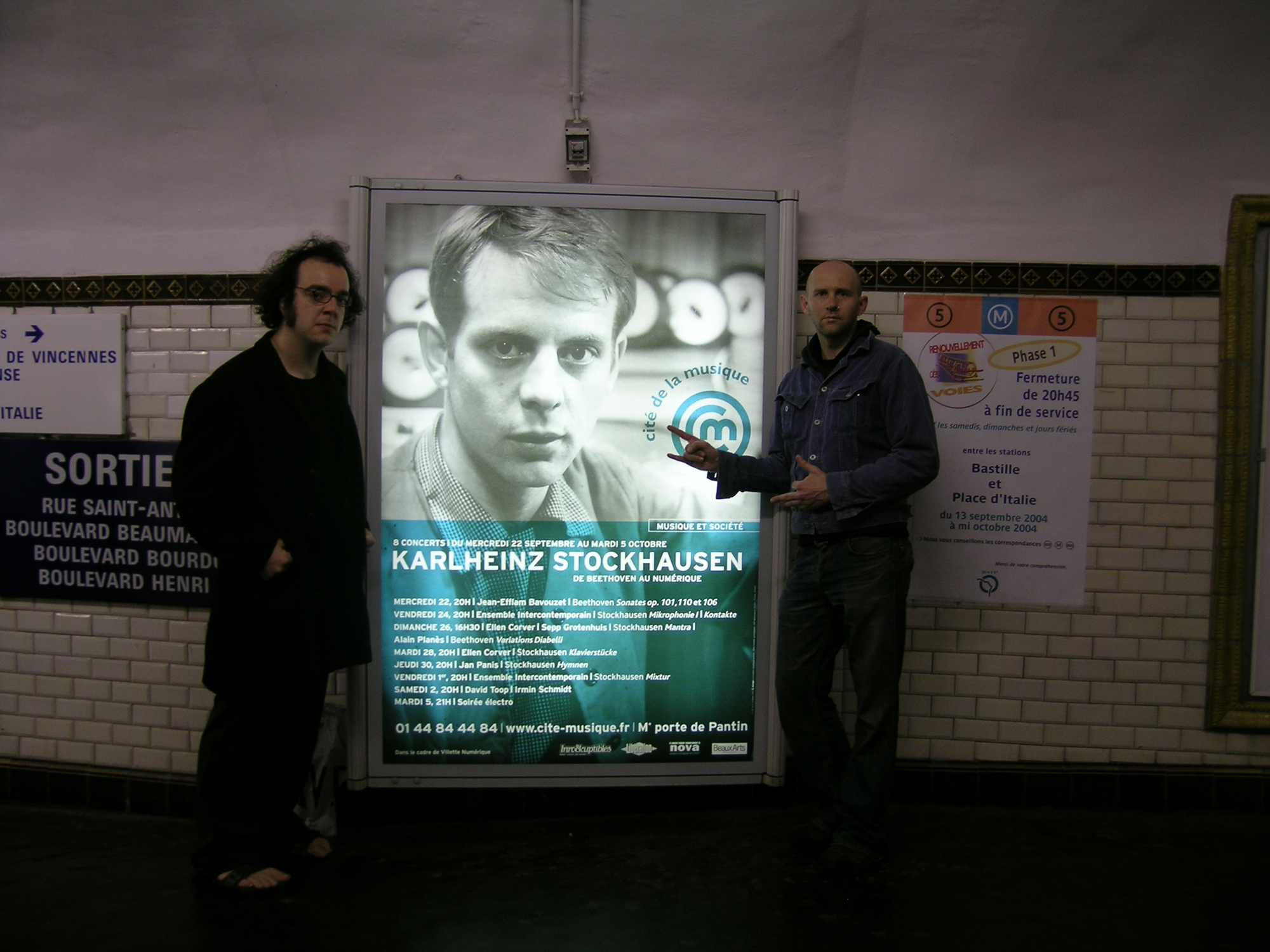 All parochialism aside, there's something special about experimental music in this city. A unique climate without which our trio wouldn't have manifested the way it did. The fluid and inclusive cross-pollination of scenes has contributed to an alternate space where sonic investigation is not contaminated by commerce or tradition, and where facilitators, performers and audiences participate across idioms with a conceptual invention, performative competency and aesthetic literacy that transcends the sectarianism noticeable in other regions. There's a distinct character of possibility, regularly noted by international colleagues when they visit to perform here. As Anthony recalls, the local scene and 'sense of community in Melbourne' in 2002 was 'very progressive, forward thinking, and open to all kinds of possibilities', where the:
openness of venues to program people like us and many others in now hyper-gentrified neighbourhoods like Fitzroy, Brunswick and the CBD, was an excellent and fruitful environment for experimental music practice. Also, things weren't as expensive, so people had more time to make and do things.
Nurtured throughout the 90s by a constellation of adventurous sonic infrastructure (venues and galleries, record stores and labels, community radio programs, artist-run spaces, bloggers and raconteurs), combined with adventurous ears, adventurous minds and adventurous bodies, the experimental music scene in Melbourne had become, by the turn of the millennium, a self-sustaining entity. If not commercially (even today), it had developed into an aesthetically robust underground music scene which had more in common with DIY punk than jazz and western art music (the ossified traditions from which it grew). Enriched by national and local festivals like What is Music? and Liquid Architecture, and events like Impermanent Audio, Tura New Music, Small Black Box, the NOWnow and the Make It Up Club, more accomplished and interesting avant-garde jazz, new classical and experimental improvisation happened at the Punters Club, the Empress, the Tote and Teriyaki Anarki Saki's chill room than at Bennett's Lane Jazz Club, the Melbourne Conservatorium or whatever pathetic counterpart to the pathetic Melbourne Recital Centre existed back then. You got your Xenakis records at Missing Link, Polyester or Synaesthesia rather than from Thomas's or Discurio. Dr Jim's record label released as much experimental music as they did extreme metal and punk rock. Various committed presenters and producers on 3RRR, 3PBS, 3CR, ABC Classic FM and Radio National provided oases of sonic intrigue amongst the deserts of musical conformity that otherwise hogged the airtime of those radio-bands. This climate not only made events like Articulating Space possible, it made them logical and natural.
After the show, Dave and I enthusiastically assailed Tony with the idea of forming a bombastic free jazz group that would mischievously subvert the classic jazz piano trio format. But despite his bravura performance in that realm, Pateras confessed he needed to stop 'being a classical pianist and somehow use those technical skills in another way'. We were familiar with some exciting revitalisations of Cagean prepared piano he was doing with fellow avant-garde pianist, Erik Griswold; and we'd concurrently been doing something similar in our duo, Lazy (Dr Jim's had recently released our Microsonics album — a study in extended techniques for electric guitar and drumkit), and, as Dave says, we were 'languidly searching for something to extend what we'd been exploring'. So, the desire to collaborate beyond the idiomatic conventions of free jazz made total sense, but we were also acutely aware of the vicissitudes of free improvisation when it is not tempered by a rigorous expressive discipline. What rapidly coalesced in our discussions was to form a group combining traditional acoustic instrumentation to explore expanded sound-worlds with a conscientious collective listening dynamic, coherent compositional spontaneity and a total commitment to free improvisation. When we started improvising together, the results were immediately obvious.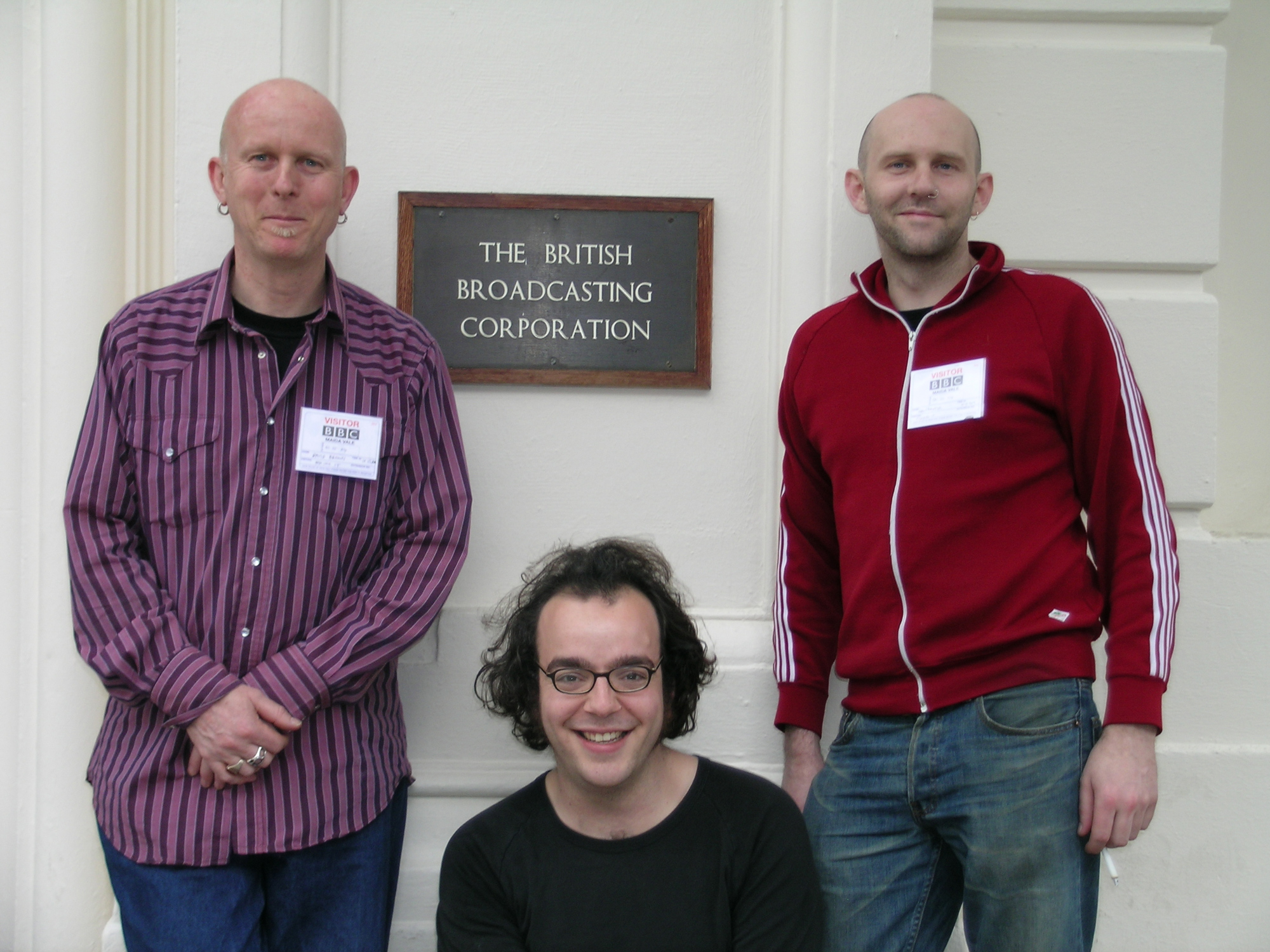 In everyday parlance, the term 'improvisation' is often used pejoratively to refer to activities that are informal, indolent and even negligent. These quotidian meanings have infected its tenor in relation to music, where it commonly refers to extemporised performances that are slapdash, self-indulgent and careless. And that may be so for shit improvisation. But such conceptions elide improvisation's fundamental capacity for invention, specifically with its radical manifestations. To me, free improvisation is the most exciting and rewarding of musical activities. Especially in a group context like our trio, where it has the potential to surprise the participants (audience and performer alike) with hitherto unimagined musical outcomes, whilst simultaneously sabotaging ingrained aural responses, technical habits and the sluggish reliance on repetition that is so endemic to institutionalised music training and listening. It is that very volatility, that promise of disrupting the established order, which, I think, underlies the discursive neglect Bailey identifies. At both a theoretical and practical level, improvisation is dangerous: it amplifies the potential for spontaneous collective action, it accentuates the democratisation of engagement required by its participants and reveals the disproportionate relations of power circumscribing non-improvisational modes. In short, it exposes the politics of sound.
It also exposes the philosophy of sound. Ontological and axiological questions reside at its heart. If improvisation is neglected by dominant musical discourse is it because, as an ephemeral practice of expression, it is inherently resistant to the various methods of apprehension required by musical regimes of truth to measure and validate it? At its core, improvisation is the act of doing in the moment, and to extrapolate upon that moment, to extend the cognitive superstructure around what is essentially spontaneous — by thinking, talking, writing, documenting, preserving, defending or otherwise colonising it with intelligibility — seems like a betrayal of its very nature as a radical breach of regimented space, time and sensory perception that can only exist by experiencing it in situ. As an improvisor, it's tempting to adopt this militant position whereby the very articulation of the ineffable is a compromise. But improvisation is an act that revels in the dichotomy of stasis and flux. It reveals the metaphysical tension between being and becoming. It is a conduit for the simultaneous negotiation of past, present and future in a rhizomatic and ever-changing NOW. Far from simply being 'made up on the spot', improvisation is the spontaneous navigation of training, context, intent and the unknown.
As a social activity focussed on collectivised explorations of the becoming possible in sound, improvisation is also bound by an ethical obligation to privilege acts of the good and the just. For improvisation to be successful — for it to make sense, for it to be pertinent, for it to resonate with a community — it needs to embody this sense of moral empathy. As Bailey says, it 'demands a kind of surrender', that subverts the egoism informing the prevailing modes of social engagement that delineate liberal humanism and capitalist individualism:
It calls for musical generosity, curiosity and sensitivity, the ability to respond instinctively and constructively to new and unfamiliar situations.
Musical altruism and musical justice are axiomatic to effective free improvisation, and in this sense, it provides a glimpse of sonic utopia. For me, P/B/B is a tangible instance of sonic Autonomia, a palpable engagement with the act of musical deterritorialisation, a form of radical resistance to authoritarian musical modes.
The McIlwraith material was recorded in 2002 on a bright winter's day in the front room of Anthony's place on the eponymous street in the inner Melbourne suburb of Princes Hill. It was our first rehearsal. The upright piano, with the front panel removed, was crammed with preparations. Its polished black façade starkly contrasting the collection of weathered screws and oxidised washers, gaffer tape and bits of wood meticulously inserted between strings and soundboard — a physical metaphor of the music to come. The guitar and drums similarly expanded with an arsenal of metallic and bamboo junk either strewn across their surfaces or laying in easy reach, ready for Dave and me to dynamically enhance the traditional timbral boundaries of those instruments. Without any discussion of form or intent, Pateras hit record on the MiniDisc and we started to play, allowing the music to evolve and mutate, coalesce and diverge, almost like the sounds were playing us rather than the other way around.
What strikes me most listening back to these pieces more than fifteen years later, is the unbridled invention of the music. It still sounds fresh to my ears because of the palpable sense of spontaneous sonic discovery and unfettered exploration. You can hear a total commitment to the pure logic of improvisatory creation. Reflecting on this material, Anthony states:
I feel closer somehow to the Princes Hill recordings: they're to me truly improvised; a magical and instinctual sense of form and expression is at play, in which the unnameable and elevated practice of the form is evident and produces outcomes that can happen no other way. There is a rigour there: a smashing together of our respective, vastly different histories as musicians which fuse into a beautiful whole.
Whilst, undeniably, the musical identities of the performers come through, individual expression is ultimately subsumed by the collective. Sections of skronking guitar fluidly transform into delicate supportive textures that enhance the group dynamic. Syncopated, polyrhythmic matrices emerge through a belligerent commitment to individualised tempi that, over time, transform into amorphously beating pulses, subverting the discrete sonic characteristics of the musical voices, transforming them into an expanded multiplicity of pure becoming. The timbral ambiguity actualised by preparations and extended technique, guarantee that the thematic interjections from one instrument are fluidly taken up by another, generating a seamless linear momentum of intuitive phrasing — like a joyfully free collective conversation — where acute listening and a disciplined commitment to the inherent logic of the phrases themselves, leads to a meta-instrumental whole. These recordings are the foundational document of our group, and remind me, to invoke Badiou, of our continual fidelity to the truth of the event of pure and absolute non-idiomatic free improvisation.
2006|Bern|Composition


[T]here is no such thing as improvisation, or, if there is, it is indistinguishable from composition. Furthermore, composition, should there be such a thing, is no different to improvisation.
This aporia, recounted by Bailey as the (unsatisfactory) consensus concluding a panel discussion by prominent improvisers at Amsterdam's legendary Bimhuis in 1987, has always interested me. If the 'creation of music transcends method', essentially dissolving the 'composition/improvisation dichotomy', how can we distinguish relative approaches to its construction? Do we reach an impasse, a musical version of the reductio ad absurdum, which spirals into nominalism and eventually just re-affirms the dominance of composition at the expense of improvisation? Even before we formed the group, I recall many discussions with both Dave and Anthony regarding the utilitarian nature of improvisation — where the only real difference between composition and improvisation is the time it takes to create, and where the notion of improvisation as compositional expediency, when diligently applied as a sonic strategy, has the potential to enhance creative expression in otherwise unobtainable ways. The subjugation of free improvisation is intimately tied to this antinomy, wherein composition, as the dominant discursive mode within the popular imagination, musicological orthodoxy and institutional training perpetually re-affirms its primacy as music. Given the meta-narrative underwriting Western music discourse since Romanticism, where composition has become both the physical manifestation of notation in the form of the score and the composer has become the idealised embodiment of singular, authorial genius, how can the dissolution of this political relationship between being and becoming — between prescription and potential, order and chaos, the individual and the collective, between protracted and dynamic methods of musical creation — be sufficiently resolved without erasing their very terms of reference? As a subjugated knowledge, improvisation holds the key to its own emancipation within this power structure because it exposes the limitations of the master discourse which disqualifies and suppresses it. In retrospect, a prescient motivation for P/B/B was to deliberately inhabit this liminal zone, confident we could create spontaneous music that sounded as if it was meticulously composed.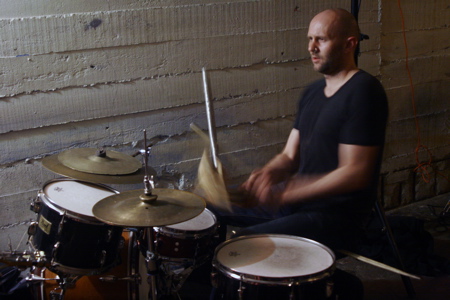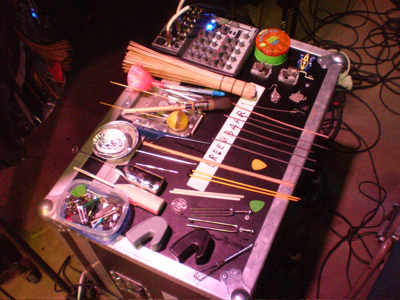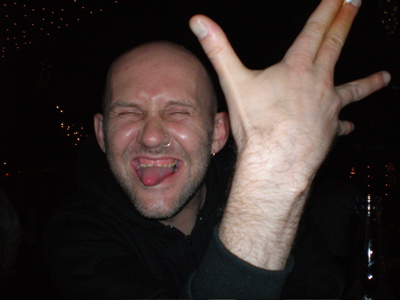 The early years of the group were characterised by an intangible sense that, whilst anything could happen at any time, discipline would ensure that what emerged would also make impeccable compositional sense. Dave recollects how, at our first gig (a few months after the McIlwraith recordings were made), again at Footscray Community Arts Centre on the 25th of November 2002, at the Spring edition of Articulating Space, this uncanny, collective compositional spirit possessed us:
During that performance I particularly remember being situated within a world of effortless, instantaneous connections, where the dynamics and drama channelled through the three of us worked alongside potent silences. Our rapport seemed pre-ordained and almost outside us, sorta spooky. At this first performance I was infused with joyousness at the fluky sonic juxtapositions flown and willed into the performance space that night.
For Anthony, the trio 'confirmed my instincts that clear and direct compositional thinking informed by improvisational relationships', was possible:
Composition and improvisation were never in conflict for me, rather, I feel acutely aware of the stylistic tropes of each and have always felt that the problems of one can be solved with the strengths of the other (both technical and stylistic).
From my perspective, we felt we could improvise radical, modernist new music better than a radical, modernist new music composer could write it, and a radical, modernist new music ensemble could perform it. In hindsight, we were aiming to scuttle Xenakis' authorial imperative, realising his fear of a 'substitution of authors', wherein the freely improvising collective becomes the composition, liberating the performer from the fascism of the composer's author-function. And, as a freely improvising group, grappling with the problem of composition was paramount.
Composition has become the standard by which music is measured, judged and subsequently valued. It is the criterion of musical creativity, inveigling its way into a normative position in Western music discourse. If you're not a composer, you're nothing but a technician. The composer/performer power relation remains omnipresent: legally, in terms of authorial rights management, structurally, in terms of the cult of celebrity of the songwriter and semantically, in terms of the prevailing definitions infecting our very terms of reference here. How many radical improvisers, who don't write in any conventional sense, legitimate their musical practice by citing 'composer' at the top of their resume, and what is the ideological imperative that compels them to do so? The cultural cache of composition as an officious signifier is why. But what is composition if not a (relatively) recently established method for the attribution of authorship, economic ownership and cultural prestige? What is it if not a logocentric signifying system and a juridical structure, founded on principles of privilege and exclusion: an arrangement where Foucault's 'whole series of knowledges that have been disqualified' as 'insufficiently elaborated', or proscribed as 'naive knowledges, hierarchically inferior knowledges, knowledges that are below the required level of erudition or scientificity', are subordinated to a domineering tribunal of evaluation? Improvisation defies this imperative by forcing us to think about creation devoid of the compositional intermediary.
Derek Bailey has an acerbic critique of this situation when he talks about the 'petrifying effect of European classical music on those things it touches', perpetuating the Romantic narrative of the composer-as-genius and the composition-as-sacrosanct in which 'performance becomes a form of genuflection'. A division of cultural labour between the divinely inspired author and the quotidian musician, between the singular act of creation-as- documentation and the peripheral activity of performing the composer's work:
which unquestionably accepts the physical and hierarchical separation of playing and creating. From this stems the view of improvisation as a frivolous or even a sacrilegious activity.
The act of playing itself is erased. For improvisation, where the act of playing is the whole point, this situation exposes the intermediary layer of performance as interpretation, and where success is measured by the performer's ability to literally translate visual cues into sonic results. Dave has a brilliantly conceived metaphor on the occularcentric nature of authoriality and the vanity laying at the heart of composition:
Playing from a score is a blindfold on music … Simply put, it seems to me, both as a performer and audience member/listener, that musicians playing from a score are engaged with a learnt procedure of performance, an adoption of technique, rather than being immersed in an engagement with sonic relationships engendered by listening, rapport and responses.
In this sense, composition is a barrier between the performer and musical creation. But if we reframe the binary relationship between composition and improvisation (the subtext of Bailey's Bimhuis anecdote), substituting composition (as the dyad comprising the composer-subject and the composition-object) for notation as premeditated intent, establishing a plane of relative stringency — from the totally predetermined to the completely free — without imposing a correlational set of value judgements on the myriad methods of creation that lie in between, free improvisation and strict composition expose their limits, because each always contains elements of the other.
I'm reminded of Anla Courtis' chainsaw analogy where the composition/improvisation debate becomes redundant: if you are going to make a distinction between the two, where do you start cutting? For P/B/B, where the compositional imperative of coherence and precision in improvisation is paramount, the reconciliation of spontaneous creation with formal lucidity began to manifest itself in the playful convergence of doing and naming. Live and on record, subversive allusions to names of songs and forms of pieces ostensibly frame what are actually freely improvised works. Our performances, as you hear here, are littered with such references whilst our recordings, as you see in this release, deconstruct the practice of naming. The live releases are literal references to place or event, along with the order in which the pieces were performed, whilst the studio releases use arbitrary names intended to mean what they say with no prescriptive relation to the music itself.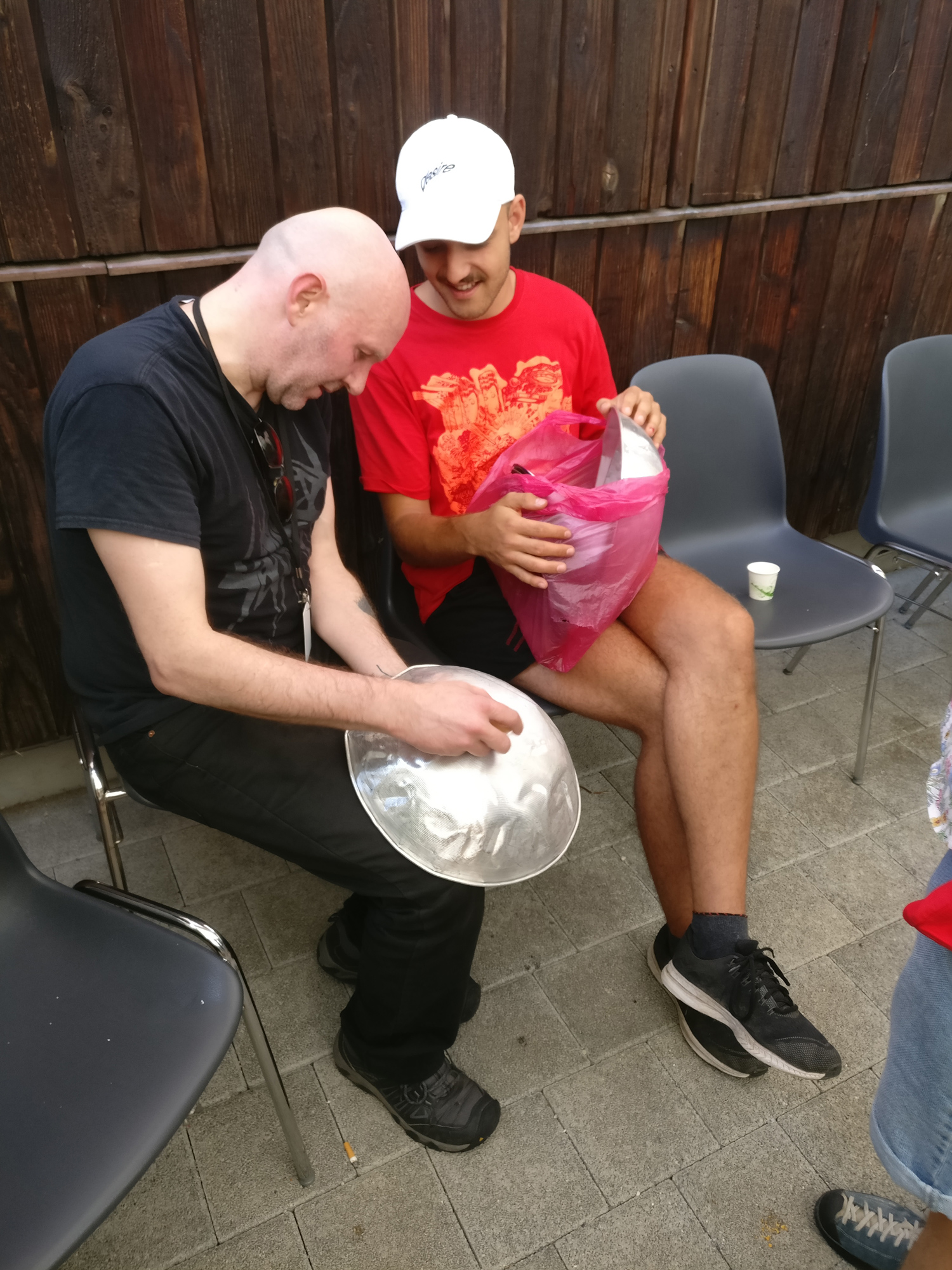 The Bern recordings come from a gig we did on December the 3rd, 2006 at the Dachstock Reitschule during our second tour of Europe. Dachstock is one of those illustrious European anarchist cultural spaces which don't seem to exist in quite the same way anywhere else in the world — eclectic in the aesthetic works it champions and presents, committed in terms of the progressive politics it nurtures, valiantly rebelling against all forms of conservatism. Curated and recorded by the late and great Sandro Wiedmer, a tireless and visionary exploratory music facilitator who will be missed by many, we performed on a bill that included the astounding electroacoustic duo of Anthea Caddy and Thembi Soddell from Melbourne (also on tour in Europe at the time). Throughout the performance, the allusions to composition as improvisation and improvisation as composition in the onstage banter and audience interaction are as much an affirmation of the trans-compositional continuum the trio inhabits as they are arbitrary and mischievous intertextual references disrupting conventional borders between genres, textures and form. As a method for engaging audiences and providing coherence, compositional framing is an integral component of our aesthetic. Yet, as important as framing is for the comprehension of intent and/or consumption, what is more important is that composition is conducted as an act within rather than outside time: compositional action in the moment. We played a 'cover' of 'Pure Fucking Armageddon', not literally, but figuratively. Sure, Mayhem are shit (in so many political ways), but they're also great (in so many musical ways).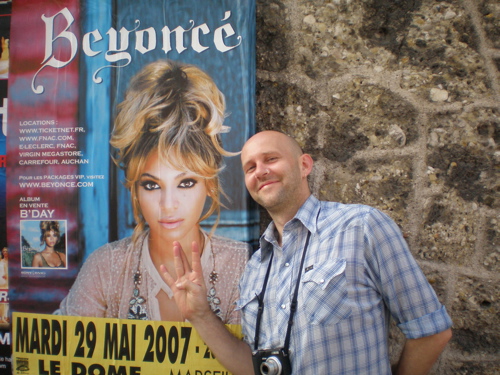 2008|Milan|Technique


The instrument is not just a tool but an ally. It is not only a means to an end, it is a source of material, and technique for the improviser is often an exploitation of the natural resources of the instrument.
P/B/B eschewed conventional approaches to our instruments from inception, deliberately imposing material strictures with the knowledge that these limitations would, conversely, generate novel sounds and structures, reveal improvisational possibilities and subvert traditional relationships between objects, discourse and perception. From the exclusive use of extended technique and instrumental preparations, to our self-imposed aversion for idiomatic musical references, we embraced the disruptive principle of sabotaging our collective formal training. By modifying the intended sound-worlds of our very traditional instruments (and let's be honest here, these instruments were carefully designed to service the conventional musical requirements of Western diatonic harmony, sonorous melody and equirhythmic meter); by exploiting their latent capacity for producing clustered harmonic dissonance, microtonal melody and polyrhythmic fragmentation, our instruments became dynamic partners in the spontaneous creation of the music itself. Exactly like what Bailey and John Stevens observe, where the 'investigation of an instrument' leads to an 'instrumental impulse' within which 'the instrument can [itself] supply the music'. At one level, this was a calculated method of protection, ensuring we wouldn't inadvertently slip into diatonic conventions in the moment — pre-emptive insurance policies against a sonorous accident. But it was also a revelation, producing an ensemble milieu wherein it is often difficult to discern what instrument is generating which sound. It opened an infinite field of timbral ambiguity and meta-acoustical collective enunciation where texture, rather than harmony, melody and rhythm, becomes the preeminent element of the music. Where traditional instrumental roles and hierarchies, are subverted (the piano can play the rhythm, the drumkit can play the harmony, and the guitar can play the texture, each combining in endless bifurcations of melody). And where the aesthetics of imperfection — the ability to embrace and intentionally incorporate wabi-sabi in musical contexts — becomes not only possible, but desirable.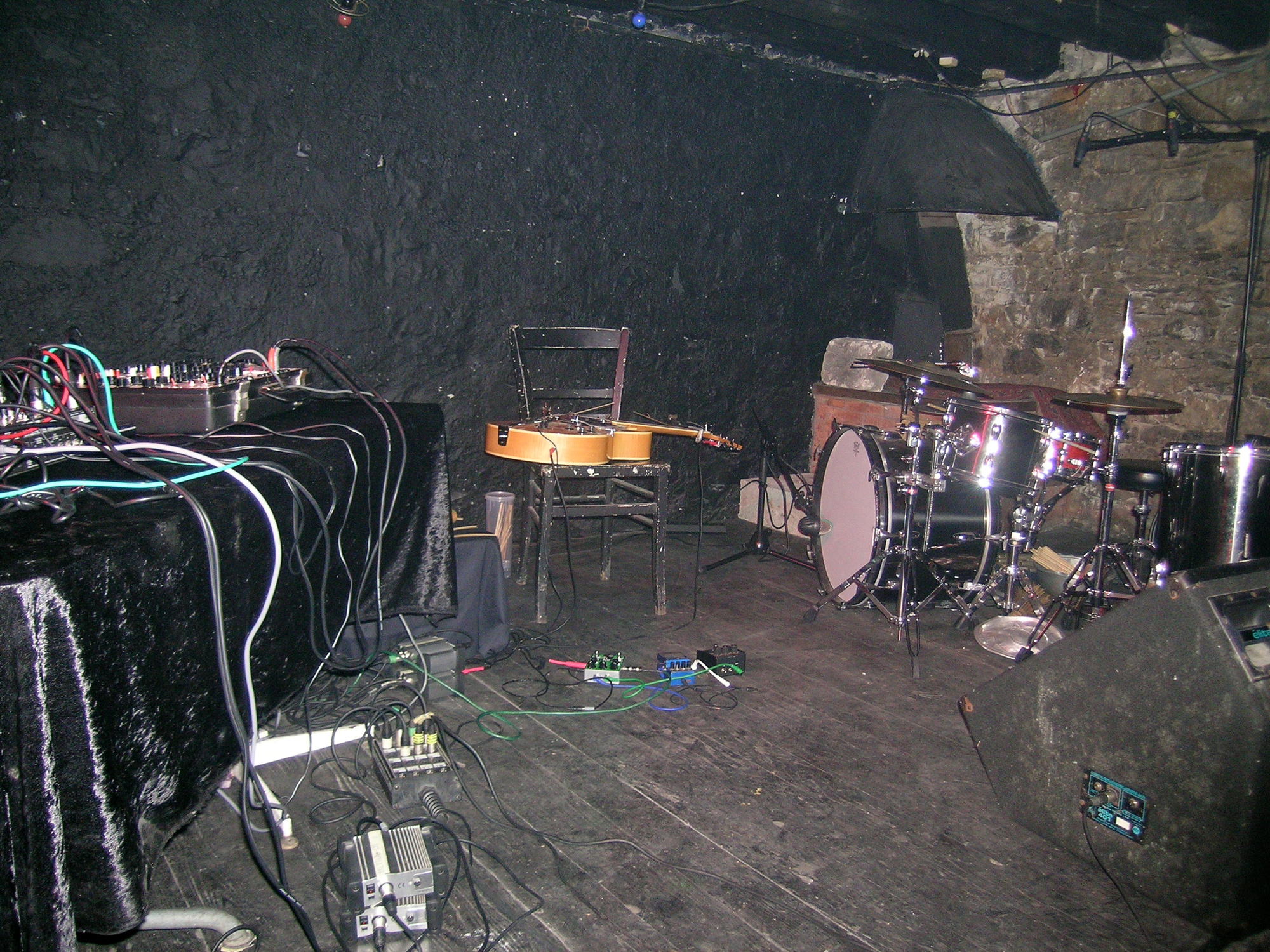 Moreover, we were aware that it's not just the instruments that are your collaborators, but performance situations and acoustic spaces themselves. Our willingness to utilise whatever equipment is available (an inevitable part of touring when sourcing gear like pianos and drumkits), along with the conscious inclusion of the unique resonant identity of a performance space — its ambient noises and architectural idiosyncrasies — often generated multiple phantom voices contributing to the music. The Milan material on this release exemplifies these psychoacoustic possibilities, but I'm reminded of two other shows where indeterminacy and context resulted in memorable sonic synchronicities. When we supported legendary Melbourne grindcore band, Fuck…I'm Dead at Melbourne's Arthouse on Elizabeth Street one rainy night in August 2007, the combination of logistics and environment conspired in such a way as to produce a serendipitous performance etched into my memory to this day. The piano at the Arthouse was an old honky tonk model manufactured by the Bryant Piano Company in Chicago. It must have been nearly a hundred years old and weighed close to half a tonne. Scuffed and scarred from housing to keyboard, it was never used for gigs, languishing in the band room accumulating graffiti from metal and punk bands over the years. The plan was to place it on stage, but as soon as we started to move the piano, it became obvious that this would not be possible without a cherry picker or block and tackle. The solution was to mic it up in the mosh pit below. With Dave and I positioned on the stage, and Anthony situated within the audience, the front of house speakers continually on the verge of exploding with feedback (sensitively wrangled by sound engineer, Dav Byrne), our performance was one of the most satisfyingly brutal and dense that I remember. Augmenting the existing group sounds, we seized onto fleeting bursts of PA feedback and imagined harmonics bouncing from the walls, recycling and re-projecting those psychoacoustic traces into a formidable orchestral construct. The result was an abstracted combination of extreme grindcore noise augmented by an illusory sonic expanse reminiscent of large ensemble works by Christou or Xenakis, but within which the detail of the acoustic gestures were immaculately balanced (the YouTube vid doesn't lie!) Such performances are impossible without an alacrity to exploit chance and circumstance in all their random promise.
Environments similarly enhance potential, providing improvisers with additional sonic resources to play with. In the confines of an ancillary alcove of le Blockhaus bunker in Nantes, we performed at the 11th edition of Erell Latimier and Will Guthrie's Cable# series in 2007. P/B/B were jammed tight in a line against one wall, whilst the packed audience encased us snuggly in a crescent. Three metres wide and seven metres long, it was, counterintuitively, like performing in an anechoic chamber, despite the structural materials it was composed of. Bound on one side by the brightly reflecting concrete surface of the wall, and on the other by insatiably absorbent human bodies, the contrasting acoustics, mediated by the instruments, generated a disconcerting juxtaposition of resonance and silence. A contemporaneous review describes how 'the music was somehow raucous and sophisticated all at once, and the dynamic tension among the three was fascinating to watch'. By this time, the trio had developed what Dave refers to as a 'learned and formidable' style, where:
our sonic palette intensified to the point where periods of density, aggression and bluster filled a greater percentage of our performative sound world and to some extent subsumed the earlier prevalence of subtleties and silences.
The Cable# show exemplified for me the crucial role of the audience to both physically impact an acoustical space and subsequently infect the aesthetic character of the sound. In terms of content, the concert was, for that period, characteristically dense: boisterous and chaotic, with rapid-fire exchanges in phrasing across instruments, driven more by the combined aleatoric possibilities of the preparations and extended techniques we were using than any premeditated response or formulated embellishment, such was the velocity of the music. But at the same time, precisely because of the proximity of the audience, and their collective capacity to distillate the sound, subtle details emerged. The resolution to the final piece we played involved the prolonged manipulation of an enamel camping plate (one of my favourite instruments — as you slowly bend it, the enamel coating fractures, flakes and splits from the malleable tin body in random, self-generating bursts, producing an intense effect that sounds like multiple bone fractures or fireworks). For reviewer, Split Foster:
This, to me, was amazing. [The group] had developed the tension in this piece so thoroughly that a room full of people was fucking mesmerised by a guy bending a plate. This is the only thing that was happening. No guitar, no mad piano. Just a man and his bare hands and a Frisbee. And it was musical.
This combination of materials, focus, intent and random staging contributed to both a performance and an experience of that performance which would not have been possible had we planned it. And, the fact that a single source of sustained, splintered noise, from an object not normally considered to be a musical instrument, attained a sense of 'musicality' emphasises aleatory and imperfection as crucial aesthetic tactics for the trio. Using and, more importantly, abusing random sonic possibilities is what improvisation is good at.
Just as institutionalised Western music discourse has deified the composer and reified the score, so too has it turned the instrument into a sacred object. The instrument has become venerated, and any threat to its sanctity is vigilantly protected. Avant-garde pianists and experimental music curators know this situation well. Getting inside the piano, to either prepare it or utilise the unique sounds available by circumventing the keyboard, is often met with resistance from club owners, tech crews and piano tuners. But, in strictly phenomenological terms, a musical instrument doesn't give a fuck about your technique (it doesn't even care if you break it). All it is interested in (if it is conceivable that inorganic objects have anthropomorphised self-interest at all) is being the conduit by which vibrations can become musically perceptible to humans. The established taxonomy of instrumental classification is partial and exclusionary. It erases the reality of sonic possibility, fortifying existing political hierarchies of instrumental roles, subsequently limiting our capacity to perform and listen. Instruments aren't singularities, they're multiplicities. A single drum may be a membranophone if you approach it in one way, but it is also capable of generating sounds which are equivalent to those of an electrophone — scraping drum skins with bamboo sticks to generate resonant harmonic frequencies indistinguishable from guitar feedback, for example. Pianos and guitars may be chordophones but there's nothing stopping them from escaping that prison — pounding the lower register of the keyboard with the associated strings appropriately prepared to produce a sub-bass rumbling identical to double kick drum; muffling the bridge of an electric guitar with aluminium cupcake moulds in such a way that the brightness of the melody and resonant harmonics sound like a gamelan orchestra. These are the possibilities defining P/B/B's approach to the physics of sound, abundantly represented throughout these recordings.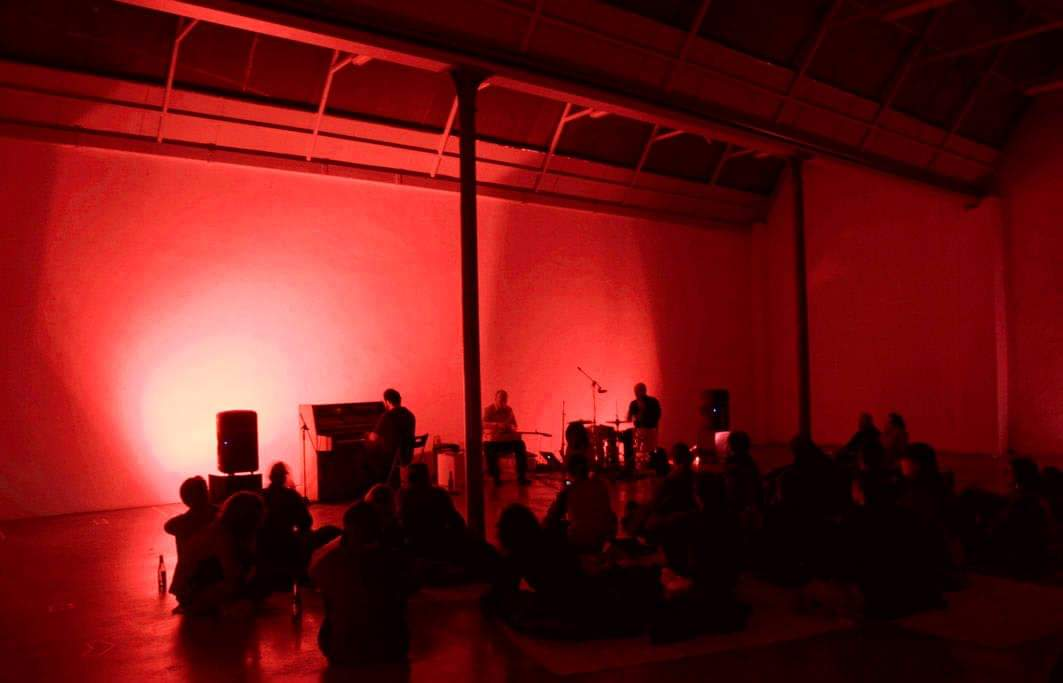 The Milan material was recorded on November 20th at O'Artoteca during our 2008 tour of Europe. Curated by Sara Serighelli (who established the space in 2001 as an artist-run, non-profit organisation with Angelo Colombo) in collaboration with Die Schachtel's Fabio Carboni, the concert was recorded by Atilla Faravelli. Located in the slowly gentrifying Isola district of Milan, O' retains connections to its working class and bohemian avant-garde roots, deliberately at odds with the prevailing political and economic climate of its city, an otherwise conservative northern Italian metropolis. It is a former factory, boasting a delicately refurbished interior where sound and light impact the space in profound ways. Despite a relatively small surface area, the high, gallery-white walls and vaulted ceilings ensure a naturally reverberant and sonically cavernous acoustic environment which, by nature, forces the musicians to deliberately engage with it from a planning perspective, so conducive is it to naturally amplifying subtle sounds hovering on the threshold of audibility whilst simultaneously cushioning them in a gorgeously wet reverberance. Listening to this material today, I often can't tell who's responsible for what sound, so intertwined are the timbral identities of the instruments. As Anthony observes, 'there are cuts and slashes in the sound that were developed on tour and worked their way into our dialogue', but the overall ensemble interplay is 'more refined'. There is a psychoacoustic grandeur in the room, evoking a dense feeling of menace and dread that paradoxically contains a sense of detached, curious scientific exploration of the harmonic and textural space. Airy and elegiac, bleak and grim, vulgar and rarefied and dispassionate and anti-humanist all at once.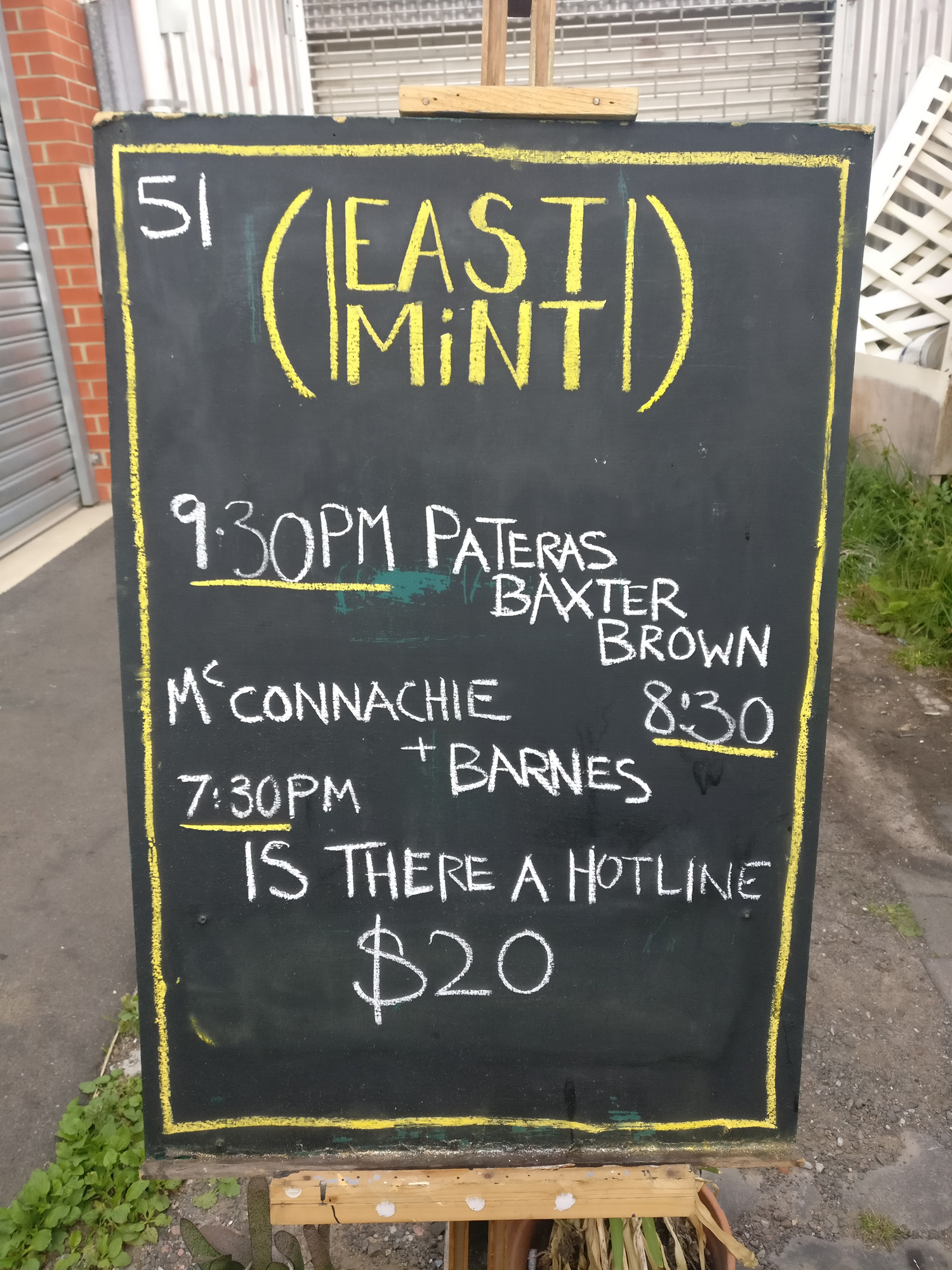 2017|Inland|Music


There seems to be no apparent correlation between the viability and the visibility of improvisation. Its survival, its general health, even, seems to be unaffected by the shifting security of its precarious toehold on the treacherous slopes of the music industry.
We play unpopular music. It's something I'm proud of in the sense that we have never compromised our commitment to austere Modernist abstraction in free improvisation. But there's nothing inherent in our music preventing it from gaining traction. For gigging musicians, it's difficult to survive exclusively from avant-garde improvisation. In fact, I'm not sure I can think of anyone who does. Yet, the lack of commercial viability and popular awareness for radical improvisation has not affected its proliferation as a truly international, albeit, underground scene. And like all underground scenes (regardless of their cultural or political desirability or legitimacy), its very existence confirms its necessity, whilst also exposing the political, economic and aesthetic structures that contribute to its subjugation. Moreover, like all art, the motivation for its creation and exploration is reliant not on the actual, but the possible. If the definition of art is that which makes us critically reflect upon our contemporaneity through the lens of aesthetics — inspiring new ways of seeing, hearing, thinking, doing — then free improvisation prompts us to critically reflect upon the nature of music itself, revealing the paradox of the cultivation of aural taste and the cultural contingency of music as a purportedly stable and universal aesthetic mode. Unpopular music is unpopular because it contravenes prevailing fashions, yet those communities who support it are still compelled to explore and embrace unpopular musical possibilities because the hermeneutic impulse to solve problems and experience innovation is rewarding in and of itself. Music for music's sake. Anthony recalls 'being very surprised how much our music resonated with people', particularly given our implacable mission, but in retrospect it's not so strange. For me, our uncompromising aesthetic approach has affirmed the fact that music is itself a continuous field of cultural negotiation and legitimation, a contestable aesthetic space within which, afforded the support, challenging music can flourish. By interrogating the foundational structures of dominant musical discourse and naturalised economies of taste, it becomes clear that there is nothing that is intrinsically musically impossible.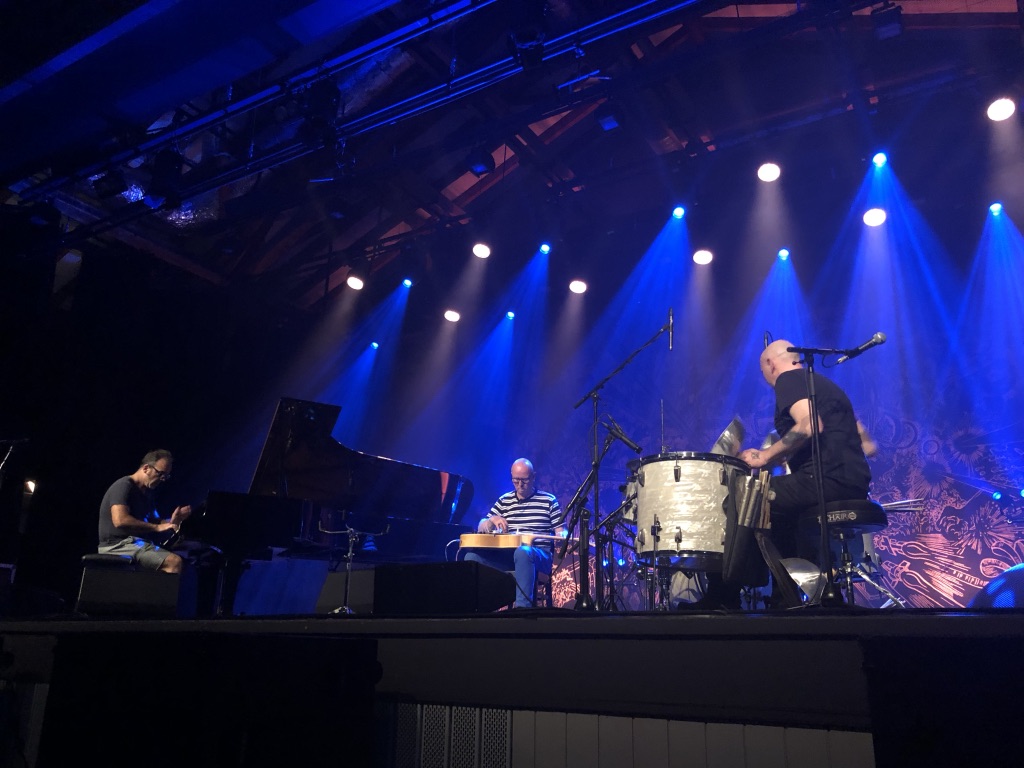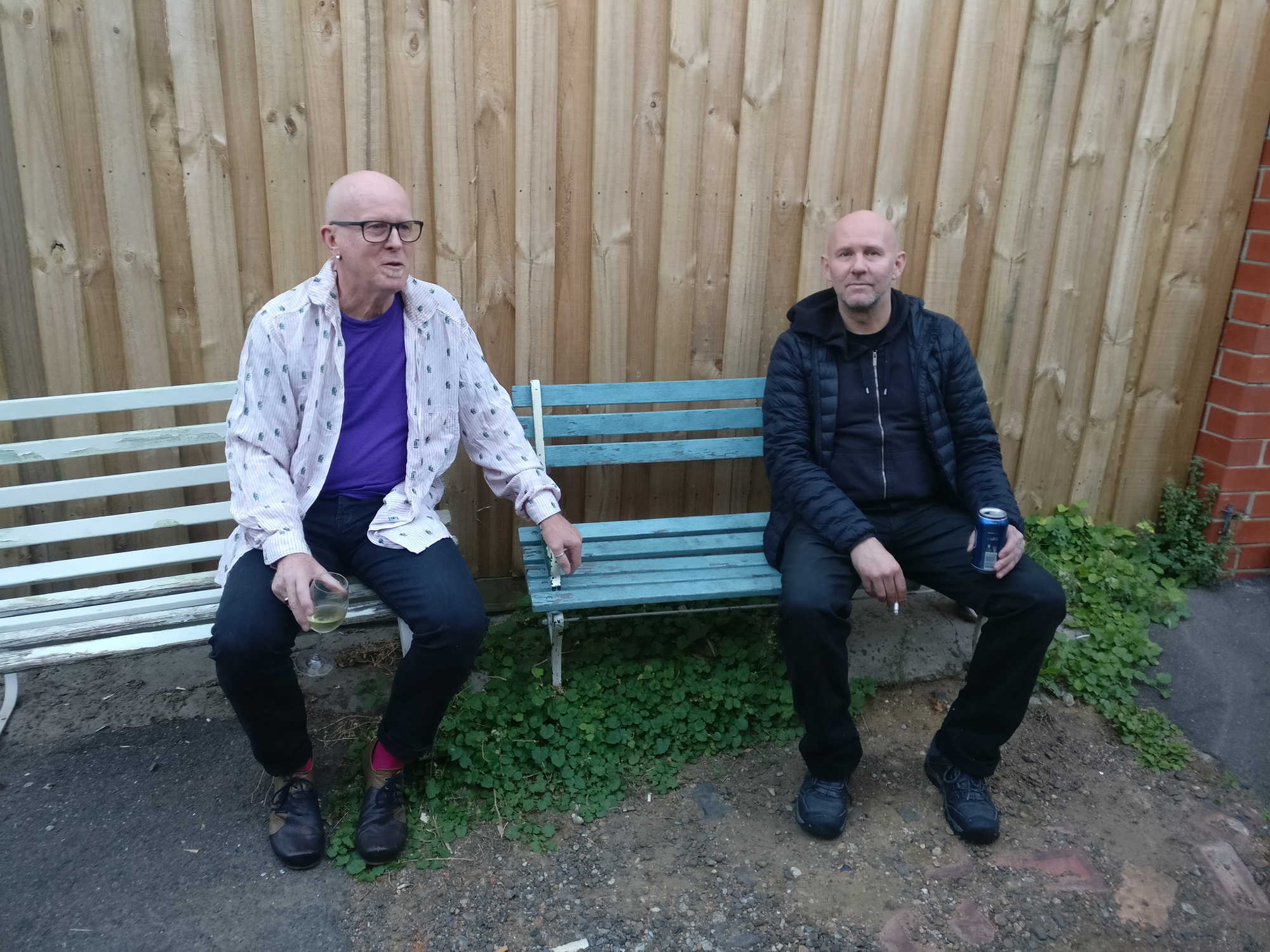 The only time we've ever 'performed' at Melbourne's premiere cultural event, the Melbourne International Arts Festival, was vicariously as part of an exhibition included in the festival's visual arts program in October 2008. 21:100:100 was an installation at Gertrude Contemporary Art Spaces in Fitzroy, conceived by Alexie Glass and curated by Emily Cormack, Marco Fusinato and Oren Ambarchi, that featured One Hundred Sound Works By One Hundred Artists From The 21st Century. Devised as an interactive installation fusing contemporary sound art and experimental music practices with the intent to draw connections between what have traditionally been disparate activities, the exhibition, to my mind, revealed the very problem that institutionalised music has with sonic exploration. The MIAF has existed in its current form as a multidisciplinary arts festival since 1990, and claims to be one of Australia's most important, challenging, diverse and inclusive, dedicated to introducing audiences to new and thought-provoking aesthetics. Yet, since inception, their music program has been consistently underwhelming, if not completely reactionary. The fact that 21:100:100, featuring as it did, some of the most important international sonic explorers of our age needed to be framed within the visual arts whilst the festival's music program featured yet another stale refurbishment of Baroque classics, a tentative (almost tokenistic) acknowledgement of Schoenberg, a politically vital but musically conservative appearance by the Black Arm Band, highlighted the impoverished relationship that musical possibility has with musical convention. If experimental music is included in a festival like this, it is represented, at best, as a curiosity and at worst, as a provocation, deliberately counterposed to real music.
So, what is music? Let's cut to the chase. Firstly, music is not a thing-in-itself. It does not exist outside of culture. Music is an exclusively human mode of perception, and the essentialist correlation that music exists in nature — as a physically coherent and self-contained noumenal object, subsisting independently of our comprehension or experience — is an anthropomorphic conceit. This is the ontological problem of music: it is not a thing in the material sense. Birds and whales don't sing. They don't have music. The earth doesn't sing, and neither does the universe. Humans apprehend these sounds, transliterate them, relate those sounds to behaviours or physics and impose the concept of music upon the results. Harmonia Mundi is wishful thinking. Yet music is continually presented to us as universal and natural: as a shared and eternal aesthetic capacity for the interspecies (even intergalactic) apprehension of sound. As such, musical effects like meaning, emotion and beauty themselves become naturalised and normalised. But, the Romantic definition, wherein music is conceived as 'sounds combined in such a way as to produce beauty of form, harmony and expression of emotion', can't cope with the reality that un-beautiful and aesthetically ugly things can equally be appreciated as music, presuming instead that beauty is singularly universal, that our emotional responses transcend individual specificity and that the elements of music are immutable. Music can be formally irregular, harmonically dissonant and expressively abstracted beyond any utility of emotional response or representational meaning. Furthermore, conventions of the beautiful, the congruent and the emotionally resonant are culturally and historically fluid and dynamic.
Secondly, music is not a physical process. The mechanistic definition (perhaps most famously articulated by Edgard Varèse, who aimed to dissolve the essentialist value judgements informing the Romantic understanding of music and the limited musicality of sounds prescribed by Western diatonic tradition), where music is, fundamentally, organised sound in time and space, is inadequate to the task. The idea of organised sound can be applied just as equally to speech and the clatter of the automated factory floor as to the noises of birds and whales. Whilst conceived to introduce a more objective and dispassionate conception of musical possibility, Varèse's definition fails because it is too broad. So, if music is neither a thing-in-itself nor a process, where do we go? A more complex and precise understanding comes from Luciano Berio, for whom music is 'everything one interpolates with the intention of conceiving music'. Music is our capacity to conceptualise information as such. Music is the set of intellectual framing-devices and sensory habits we use to comprehend sono-physical disturbances and their correlative discursive components.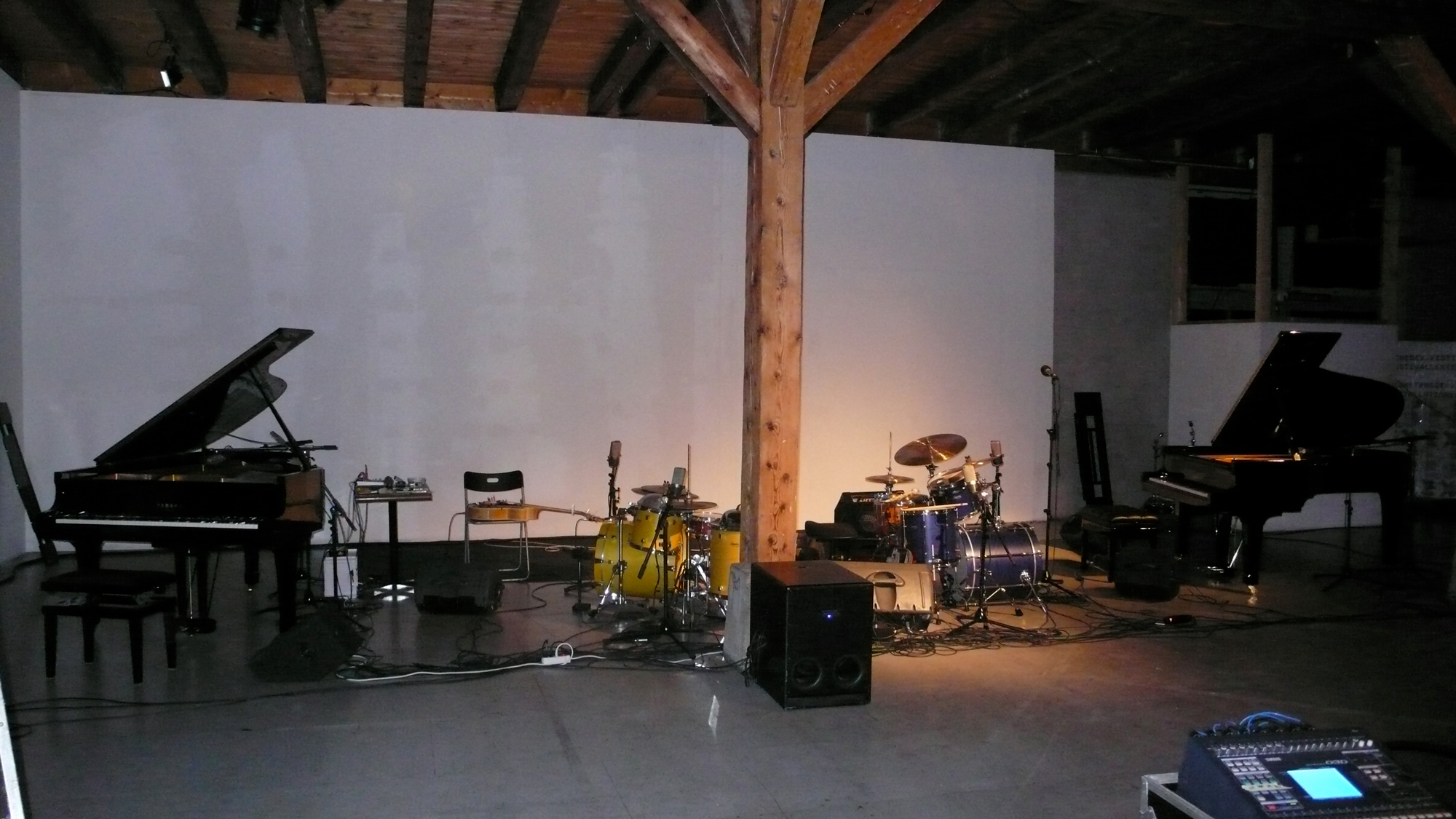 Just as our comprehension of the possibility of the musicness of various combinations of sounds are learnt, so too is our ability to discern the musicality of the sonic elements comprising those discrete sonic constructs. Sounds do not possess inherent emotional or musical qualities, rather, we need to learn how to make musical associations with the sounds we hear and for our auditory faculties to process them as such. This is the second part of the problem of music: the cultivation of sonic taste. The cultivation of sonic taste (like all taste, actually) is tangled in a paradox. If we don't know what we could possibly like, we don't know if we could possibly like it. Aesthetic taste can be formulated with a simple equation: exposure + engagement / time + space = adoption. The exposure part is the most difficult because it is mediated by social forces that can limit our cognisance of the possible; systems of adjudication that unwittingly or deliberately shield us from awareness of the (potential) musicality of sounds or concepts. Foucault (in a discussion with Pierre Boulez) has identified this as the field within which the paradox of taste emerges, and where our ability to identify the threshold of what is musically perceptible and acceptable resides:
What is put at the disposition of the public is what the public hears. And what the public finds itself actually listening to, because it's offered up, reinforces a certain taste, underlines the limits of a well-defined listening capacity, defines more and more exclusively a schema for listening … So commercial productions, critics, concerts, everything that increases the contact of the public with music, risks making perception of the new more difficult.
The ability to learn how to reconcile unfamiliar and even seemingly unpalatable sounds within the conceptual frame of music, has been a key element in my own musical growth, and has deeply informed the way in which P/B/B embraces even the most random, abstracted or (in popular terms) unmusical sounds. No individual sound or combination of sounds are, a priori, unmusical. Rather, they are subject to our ability to both hear them and think them into musical being. By trusting these directives, P/B/B has been able to continue our explorations without compromise.
The INLAND material was recorded on December 11th by Lachlan Carrick at the 2017 season finale of the eponymous concert series in Carlton. Fearlessly curated by Alexander Garsden and Rohan Drape, INLAND is the spiritual successor to Articulating Space. An event where focussed listening to audacious music is the tenet, and considerations of genre or idiom, form or content is immaterial. The roster for this edition included Melbourne's Macedonian Women's Choir, a new solo work by Drape, and the duo of Josten Myburgh and Jameson Feakes from Perth. An eclectic bill comprising various engagements with musical tradition and musical possibility. From within the audience, I got a real sense of magnanimous engagement with all of the performers throughout the night, illustrating the ability of listeners and sonic communities to embrace the challenging and the unfamiliar if they are given the opportunity. The whole problem of what constitutes music doesn't exist in situations like this.
It was our first performance in nearly twelve months, and, again, with no discussions or planning around form or content, we launched. In these recordings, just like the works from our first rehearsal, the simultaneity of abandon and rigour, chaos and precision, is palpable. In formal and structural terms, I always think of P/B/B as ultra-materialist, anti-humanist music — improvisation within which the logical possibilities of the materials and spaces, the contexts and antecedents themselves dictate the musical outcome: a dispassionate, austere fidelity to sonic abstraction driven by the continuous logic of the unfinished project of the Modernist avant-garde. In social and aesthetic terms, I always think of P/B/B as a conduit through which radical improvisation reveals itself as a critical act of becoming, embodying the promise of progressive disjuncture and amplifying the social and political possibilities inherent in the tumult of flux. As Deleuze and Guattari affirm: 'to improvise is to join with the World'.
You've got the recordings. Enjoy!
---
In homage to Sean Baxter (1970–2020)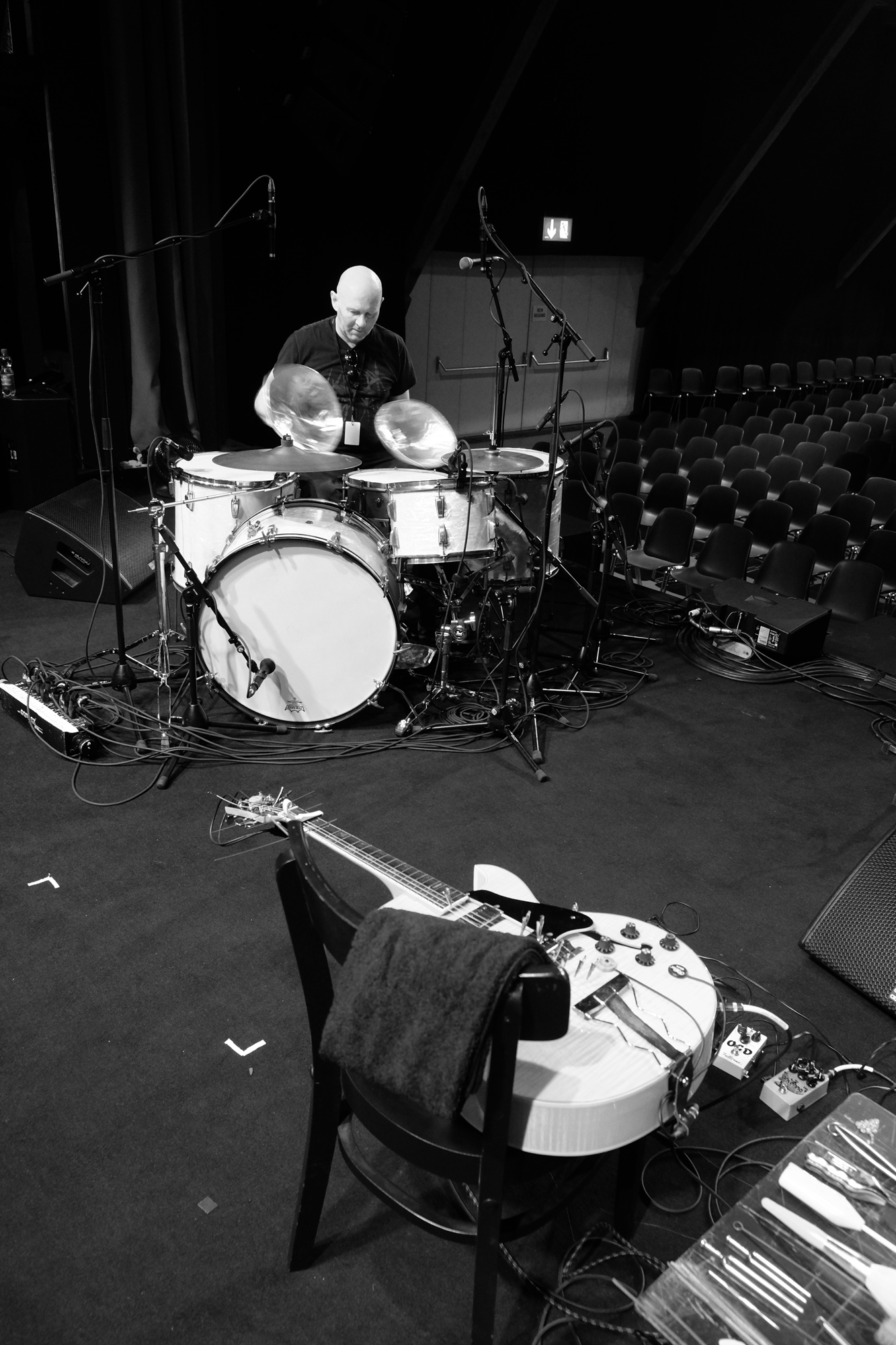 Contributor/s
Australian musician Sean Baxter died on 15 March 2020. Part of Melbourne's improv scene, he is described by musician Anthony Pateras as possessing "a unique aesthetic vision and intellectual depth, mixing highbrow philosophical concepts with punk sensibilities in how he lived, spoke and played. He was pure energy."
Drumkit and percussionist, Sean was an Australian improviser who forged an international reputation as a bold explorer of percussive possibilities both as a soloist and through his work with the acclaimed avant-garde trio, Pateras/Baxter/Brown. Focusing on the use of extended techniques applied to the conventional drum kit, he utilised an arsenal of metallic junk and other percussive detritus to expand the sonic palette of the percussion tradition. In addition to Pateras/Baxter/Brown, he was involved in many collaborations and was drummer for groups The Throwaways, Bucketrider, Lazy, SxSxSx and Terminal Hz.